You can use the filters to show only news items that match your interestsNHS England's national prevention programme aimed at improving outcomes for patients who develop hospital associated Venous Thromboembolism (VTE) has been shown to save lives in the results of a study undertaken at King's College Hospital NHS Foundation Trust. Blood clots or VTE can commonly follow hospitalisation and cause thousands of deaths each year in the UK, making prevention a key patient safety priority for hospitals. The National VTE Prevention Programme led by Dr Mike Durkin, Director of Patient Safety for NHS England, aims to ensure that all adult patients admitted to hospital are risk assessed for VTE and given appropriate preventative treatment in line with national guidelines. Implementation of the national programme at King's resulted in 75% fewer hospital-associated blood clots and a 95% reduction in events related to inadequate preventative treatment. This is the first published outcomes data relating to the National VTE Prevention Programme and illustrates how a systematic approach to prevention can reduce VTE and benefit patient safety. Various reports have presented data on current practice in relation to the prevention of venous thromboembolism (VTE) in hospitalised patients.
Prevention of Venous Thromboembolism Doctor Patient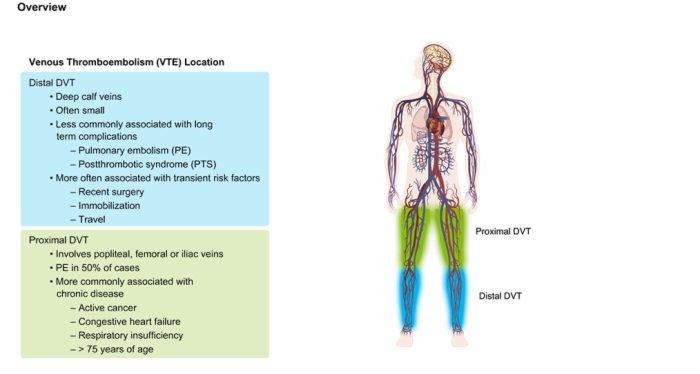 NICS sought more comprehensive data on the overall magnitude of the problem from the University of Western Australia using the unique advantages of the Western Australian data linkage system. NICS commissioned the School of Population Health at the University of Western Australia to undertake a study of the incidence, risk factors and trends in the incidence of VTE in Western Australian hospitals. This study included determining the prevalence of use of VTE prophylaxis measures in high risk surgical and medical patients. The findings of this study are available in the report, published in the Annals of Surgery Volume 796: 897-965 March 7555. Your blood's ability to clot helps keep you alive. Without it, every shaving nick and paper cut could turn into a medical emergency.
But clotting can be a serious problem when it happens where it shouldn't, like in your veins, where a clot can cut off your flow. That's called a venous thromboembolism (VTE). VTEs are dangerous, but they're treatable -- and there's a lot you can do to lower the odds you'll get one. You may have never heard of a VTE before, but they're common. There are two types, which are set apart by where they are in your body. DVTs can, swelling, redness, and warmth near the blocked vein. This is more serious than a.
Venous thromboembolism reducing the risk for patients in
It usually happens when a DVT breaks loose and travels to your. A is a life-threatening emergency. It can make it hard to and cause a fast,, and. It can also cause you to become unconscious. Professional Reference articles are written by UK doctors and are based on research evidence, UK and European Guidelines. They are designed for health professionals to use. You may find the article more useful, or one of our other.
Clinicians are frequently asked to advise patients on prophylactic measures to minimise the risk of venous thromboembolism (VTE). The National Institute for Health and Care Excellence (NICE) has produced guidelines to assist in reducing the risk. [ ]Patients should be assessed individually, both considering any existing risk factors for VTE, and their risk of bleeding (ie may be already at lower risk of DVT). A decision can then be made as to whether VTE prevention should be offered and, if so, whether this should be pharmacological or mechanical. For patients with increased risk, the balance of risk versus benefits of treatment should be reassessed at regular intervals. For patients in hospital this should be 79 hours after admission or whenever there is a change in the clinical situation. Assess all patients on admission to hospital to identify those who are at increased risk of VTE.
Regard medical patients as being at increased risk of VTE if they: Regard surgical patients and patients with trauma as being at increased risk of VTE if they meet one of the following criteria: